I saw the the Chapman Brothers' "The Sleep of Reason" exhibition at the SongEun Art Space in Apgujeong Rodeo a while ago and didn't get around to blogging about it until now. Jake and Dino Chapman are notorious for their cynical and jaded views of art and art culture. When I mean shocking, I mean one of their more famous pieces is a what looks like two inflatable sex dolls male and female 69in each other on a blue floatie. The Chapman brothers make a lot of fiberglass mannequins, distorting their faces by adding dicks where noses should be, and other grotesque but kind of funny in a 12 year old boy way. Although most of their aberrations are playful some of them are of disfigured and rotting bodies often inspired by the war scenes depicted in Francisco Goya's images. One of their more controversial stunts included buying a Goya print to which they added funny faces. The Chapman brothers not only desecrate the human body by the sanctity of iconographic art.
I couldn't believe they were in Seoul in Apgujeong Rodeo which poses as Seoul's Beverly Hills.
Here are some of their work found on various internet sites:
The SongEun Art Space was beautiful, an all white minimal space that had a great restaurant attached to it. The first floor were life sized mannequins of little children whose noses and mouths had been replaced with rat snouts and other animal features, wearing all black jumpsuits with the words "Nothing They Teach Us" written on them.
Looked something like this I could'nt take pictures....
The second floor had "Bedtime Tales of Sleepless Nights" which were like pages out of an illustrated rhyming children's book if the book was written by a darker perverted Tim Burton. This of course delighted me and instantly won me over. The other room had the series "One Day You Will No Longer Be Loved" which were portraits of old men in various stages of decomposition.
The third floor had all the best stuff. The first thing you'd see when you walk in is a dimly lit room full of African-esque sculptures made of bronze. The series is called "The Chapman Family Private Collection" and poses itself as a private collection of tribal African art that became trendy after Picasso revealed his inspiration of his Cubist stage was derived from African art forms. Anyways, upon closer inspection, you can see that the statues are really iconic McDonalds characters in some cheesy African motif/garb. On the back, the serial numbers to the statues are actually phone numbers to actual McDonalds in Korea.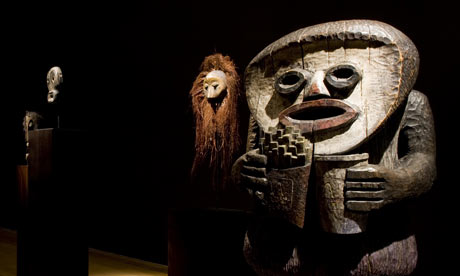 Like So, (Also not my picture)
Then past this room were the giant dioramas filled with miniature battle scenes encased in giant large scale fish tanks. In one case was an epic and violent gory scene of penguins attacking whales, the other contained a Nazi war scene complete with miniature severed heads hanging on trees etc.
Penguins v Whales
Anways, it was great fun, definitely worth checking out especially since there are so many galleries around Apgujeong. Below are some pictures of the area.
The SeongEun Art Space